Manhattan AC Charging Cart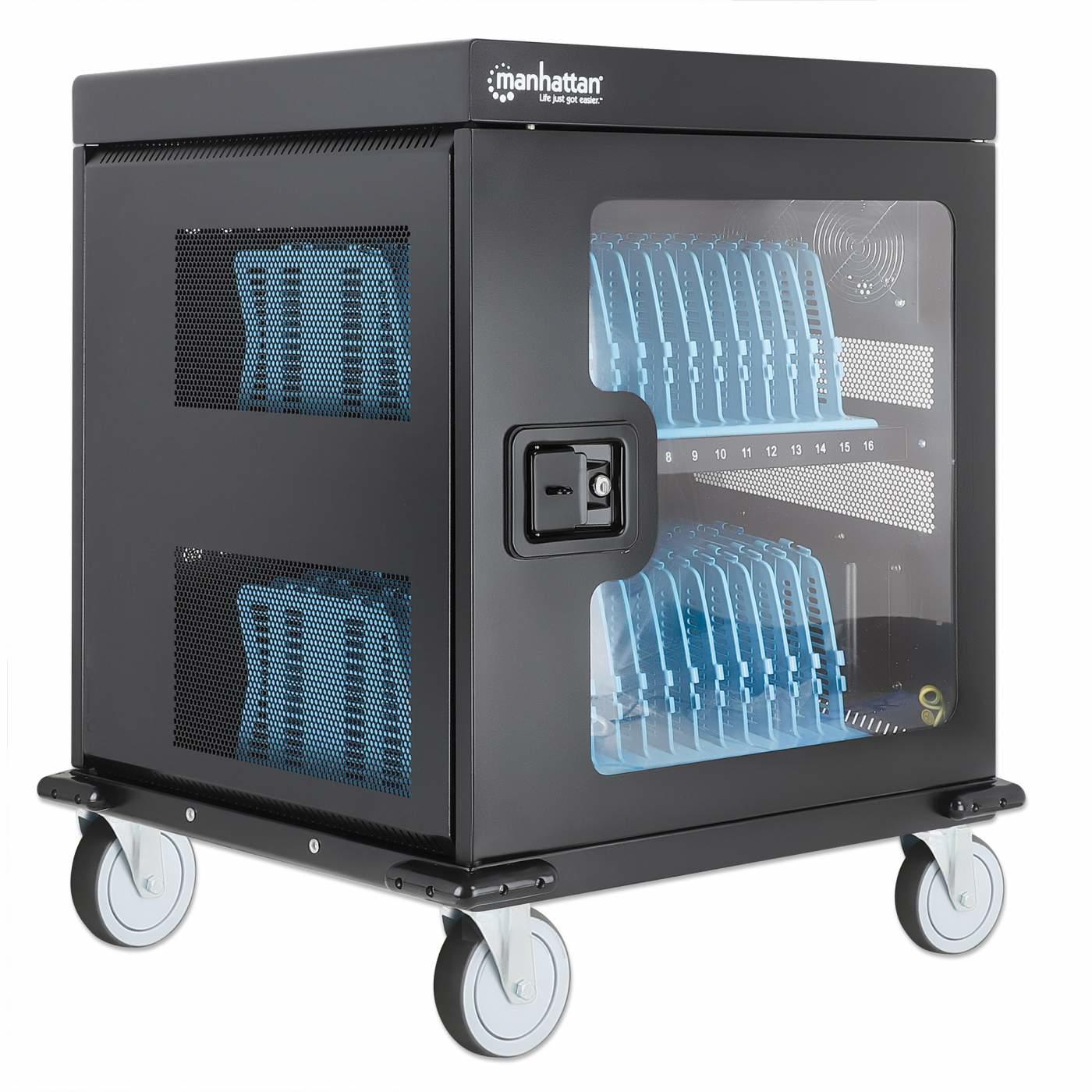 Charging Cart – a mobile charging solution for educational environments, hospitality and more
Charging and storing devices is easy with the Manhattan. 32-Port AC Charging Cart. It is the ideal solution for keeping devices ready and secure in schools, restaurants, gyms, doctor's offices, universities, hotels, car rental agencies and more. It helps you easily power up and store all the devices your students, guests, patients, customers and patrons use each day.
Smart Power
The built-in AC outlets in PDUs at the back of the unit make it easy to charge devices such as laptops, notebooks, tablets, phones and many others using their power adapters or wall chargers. Admins get easy access thought the door on the back of the unit to easily plug into the outlets and feed the cables through to the devices.
Physical security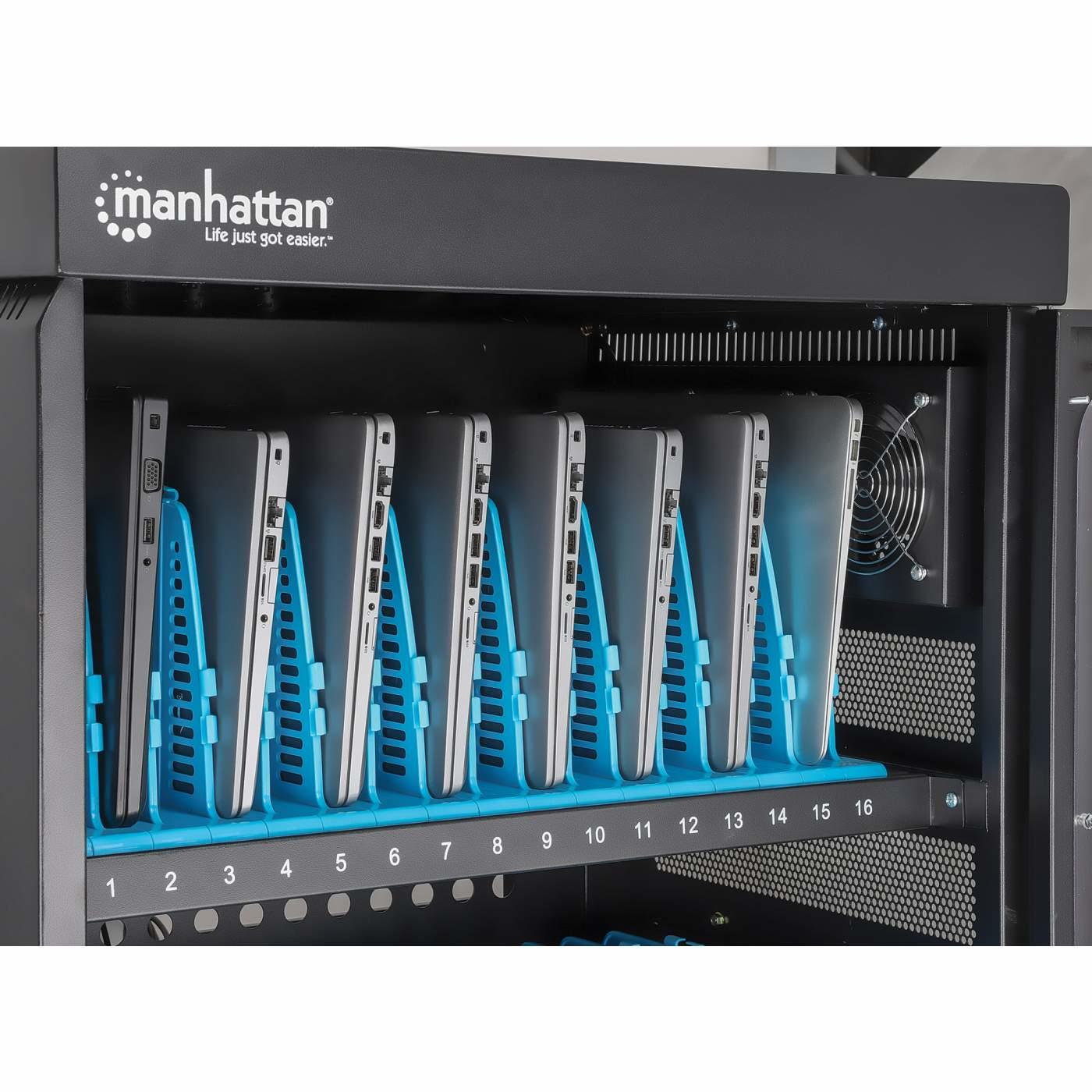 The sturdy, durable steel housing of this Charging Cart offers a visible sign of professional device management and protection. Key-locked front and back doors help keep devices secure while they charge or when they are not in use. The included heavy-duty casters let you roll the cart where you need it; wheel locks let you easily secure it in place.
Organized and versatile
Keep your devices organized in the bay slots that offer plenty of space (380 x 30 x 280 mm ), even for bulky cases. The built-in cable-management clips on the bay dividers let you structure your charging cables (USB cables are available from Manhattan) for better organization and a cleaner look. The included power cable is removable for better storage.
Safely stores and charges devices up to 15.6″
Built-in AC outlets (32 total) on the back
Protection against overload, overcurrent, short-circuiting, voltage spikes and lightning strikes
Combined steel and safety-glass door on the front
Sturdy, secure, powder-coated metal housing; 3-point door lock on front and back; two included keys
Spacious device bays (380 x 30 x 280 mm each) with cable management built into the dividers
Silent fan and ventilation slots for maximum airflow and cooling efficiency
Built-in handle and four heavy-duty wheels
Round edges to avoid injuries in busy environments
Earthing kit included
Universal AC input with C14 connector; power cable with C13 to UK plug included
Three-year warranty
For full product information, please click here
The Venturer Europa 14″ Intel Celeron Laptop is part of our affordable laptop range, which features great-value laptops designed to keep you connected to what matters. Ideal for studying, making notes, emailing and eLearning. The great value Laptop comes with a huge 256 GB SSD of memory enough for work and playing all needs. Stay up to date with your classes and the latest news headlines with the Venturer Europa 14″. Powered by an Intel Celeron processor, your laptop is able to handle your everyday routine from homework to writing a report or chatting with other students/friends.
Be connected wherever you go. At less than 21.5 mm thick and weighing just over a kilo, the Venturer Europa 14″ is ideal for portable computing, whether you're working in a classroom or researching in the library. Equipped with superfast Wi-Fi, this laptop packs a punch for such value. Along with the 2 MP Camera, you can call your friends and family with the latest video software on the market. Complete tasks without needing to reach for the charger. The Venturer Europa 14″ has a battery that deliver up to 6 hours of browsing time. That more than enough to keep you entertained on the commute and handle your work tasks throughout the day. Enjoy effortless productivity across a range of applications with the Venturer Europa 14″.